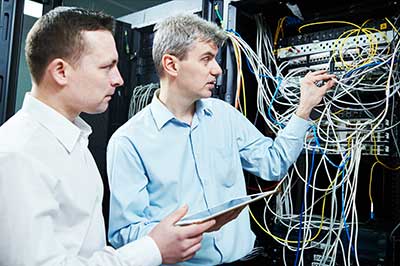 One of the most important things to keep in mind when finding a new network solutions provider is to feel your IT is managed by professionals. Wahaya's team of network engineers are all certified and stay up to date with all technical certifications. Before you on-board with us, we offer a full site wide assessment and create a network support and service plan. Once you are a client with us, we offer full excellent desktop and mobile support, our service desk prides itself on beating any service level agreements out there.
Wahaya also provides network security for your company and all of your other IT support needs. Our network security programs offers security assessments so we can get to know your network and infrastructure. After we determine what your company needs we will have a meeting and create a managed service plan so we can manage, secure and support you systsems 24×7. Our network security assessment includes servers, desktop systems, mobile phones, wireless routers, ISP, email and all cloud applications.
Backed by technology experts, we help organizations gain the full benefits of existing systems, make strategic investments in implementing replacement solutions and maintain infrastructure that is secure, dynamic, and reliable. We offer a full range of solutions including a full managed services, mobile computing, Virtual CIO, IT strategy, virtualization, cloud computing, business continuity, network security and IP telephony.
Contact us today for a no cost consult and see how we can become the most important part of your team, the team that keeps things running!